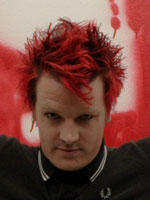 Band Position:
Guitarist, Vocals
D.O.B:
January 2nd 1975
Original Location:
Melbourne
First Played Guitar:
6 Years Old
Musical Influences:
The Jam, The Stray Cats, The Clash, The Cure, Elvis Costello, Supergrass, Joe Jackson,
Rose Tattoo, AC/DC, Elvis Presley
Fav. Drinks:
Pineapple Juice, Jack Daniels, Beer
Drives:
People crazy with indecision.
Other Info:
One of the best guitarists in Australia. He is the lead guitarist in cover band 'The Wrights'.
Quotes:
"A Beer A Day Keeps The Doctor Away"
"For those who just tuned in we're the Beatles!" - Triple J Live at the Wireless
"Every Australian band wants to stick it to the Yankees"
"Maybe if I point to my brain it will work..."
"Buddy Holly was the geekiest looking guy in the world, but he had some really rockin tunes."
"Fuck you see some weird looking people around here"
Live Setup
2 x Gretsch White Falcon Guitars (Ealry 90's Models 1955 Re-Issue)
1 x Black Duo Jet Guitar
1 x White Duo Jet Guitar
1 x '59 Les Paul Junior Guitar
Bogner Vintage 30's Speaker Cabs
2 x 100 Watt Wizard Amplifier Heads
1 x Full Tone Fulldrive 2
1 x Ibanez Tube Screamer
1 x Line 6 Delay Modular
1 x Dave Ulbrick Custom Drive Pedal
11 - 14 - 18 - 30 - 46 - 52 Gauge Ernie Ball Stings