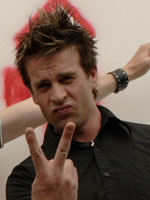 Band Position:
Drummer
Previous Band:
Pollyanna
D.O.B:
August 20 1974
Original Location:
Adelaide
First Played Drums:
12 Years
Fav. Show:
Summersonic 2003
Musical Influences:
Hoodoo Gurus, Foo Fighters, U2, You Am I and Hot Hot Heat
Fav. Drinks:
Coffee, Coke & Beer
Hobbies:
Surfing, Drums, Coffee and Cooking
Other Info:
Rodney Rude Fan, Makes Great Coffee
Quotes:
"I just admire the band. Chris and Scott are amazing and I'm just driving the bus you know? But it is an amazing bus to drive; it's got all the power steering and air con and stuff. And I'm just giving Chris a solid foundation to blow people's minds basically – that's how I look at it."
"I was absolutely shitting myself...Fuck, I want to go home!" - Before First BDO show.
"A radio in the shape of a naked lady (thanks Pop). You have to tweak her nipples to control the tuning and volume." - favourite Christmas present.
Live Setup
Pearl MHX Drums
Kick Drum: 24" x 16"
Rack Tom: 13" x 9"
Floor Tom: 16" x 16"
Floor Tom: 18" x 16"
Snare Drum: 14" x 6"
Zildjian Symbols
14"Z Custom Hats
22"K Custom Ride
18". 19". 20" Z Custom Crashes
Remo Drum Heads
Coated Emperor On Toms
Powerstroke 3 On Kick
CD Dot or Emperor-X on SnareVic Firth Sticks
1A Wood Tip
Pearl Pedals and Hardware